After listening to Hai's testimony on December 24, 2011, I understood why Hai wept when he praised God and prayed. I'm thinking of gang leaders who would rather be beaten to death than to kneel before anyone, but now upon hearing the name of Jesus, they would willingly bow down before Him.
On June 6, 2013, Hai Hong Nghiem, a street gang boss and child of delinquents, went to heaven to be with God. After encountering the Lord, he lived the remainder of his life with meaning. He shared salvation and blessed many. I invite you to read Hai's testimony to see that God never forsakes anyone, even during the most hopeless and desperate moments of his life.
Thu Van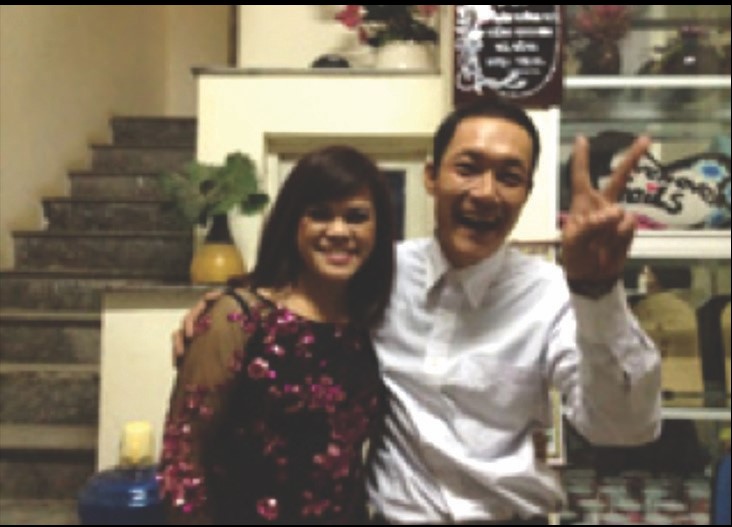 ThuVan and Hai Hong Nghiem – Christmas 2011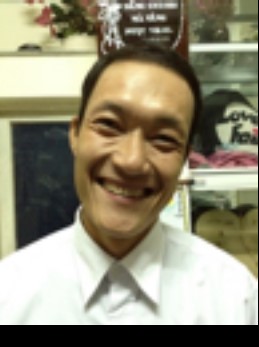 My life was like a filthy and foul manger filled with sins that no one in this world would want to come near. However, there was one person who was willing to come near this manger to clean it up. The person who stepped in to cleanse my life was Jesus Christ, the Savior of the world.
FAMILY CIRCUMSTANCES
My name is Hai Hong Nghiem. I'm the second oldest in a family of five children. I was born in 1976 in Hanoi, Vietnam, into a family filled with sin. My childhood was filled with shame and pain. One time, as I was playing with the kids in my neighborhood, all their parents came to take them home. They did not want their children to play with me. The parents told me to go home. With their backs turned to me, they told their children, "Do not play with the son of a thief and a criminal." Whenever I asked my mother where my dad was, she would point to a photo and tell me he was in the military. Little did I know that the man in the photo I looked at every day and visualized as my father was serving time in prison for robbery.
When I got to high school, all of my teachers and classmates avoided me. They did not want to associate themselves with the son of a robber and convicted felon. These incidents caused me to change from an innocent boy to a person who carried pain and sorrow in his heart. I felt shame for having such a father. I developed hatred and jealousy towards everyone around me. I isolated myself. I tried to study, but couldn't, because my heart was filled with hatred. I quit school and joined a gang, following in my father's footsteps. As the saying goes, "the apple doesn't fall far from the tree". One after another, my brothers followed the crime-filled path of my family.
LIFE IN THE GANG
I dove into street life and began using cocaine and heroin. Soon I was addicted. I also became a thief, a robber, a debt collector, a hired killer, and a pimp. I persuaded and coerced young girls, who came to Hanoi from the countryside, to become prostitutes. I would let them try drugs to get them addicted so I could manipulate them. I spent many years in prison to pay for the crimes I committed, but prison did not cure me. I only got worse. I became more violent and committed more crimes.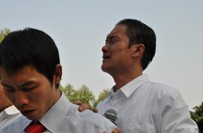 "Their many sins have been forgiven, so he has shown me: much love…"
(Luke 7:47)
After six years in prison, I was released for the last time in 2010. Upon returning home, I lost all hope to live. My family was broken. Some of my brothers were addicted to drugs, some were in prison. My mother was always drinking, gambling, and had neither care nor love for anyone else. My wife left me and got re-married. Someone told me that my wife had abandoned my son by giving him away to a temple before marrying another man.
SEEKING TO END MY LIFE
I was in great pain and lost all hope to live. I thought of my family, my son, and the years of drugs and prison. I no longer wanted to live that way, but I was at a dead end. Thinking that death was the only solution, I decided to end my life with a drug overdose. I hired a motorbike taxi driver, and gave him 500,000 dong (equivalent to $25 USD at the time) to buy me a powerful drug and a syringe for my suicide. How strange, I did not die. After my suicide attempt, someone found me clinically dead with dilated pupils. I received medical attention.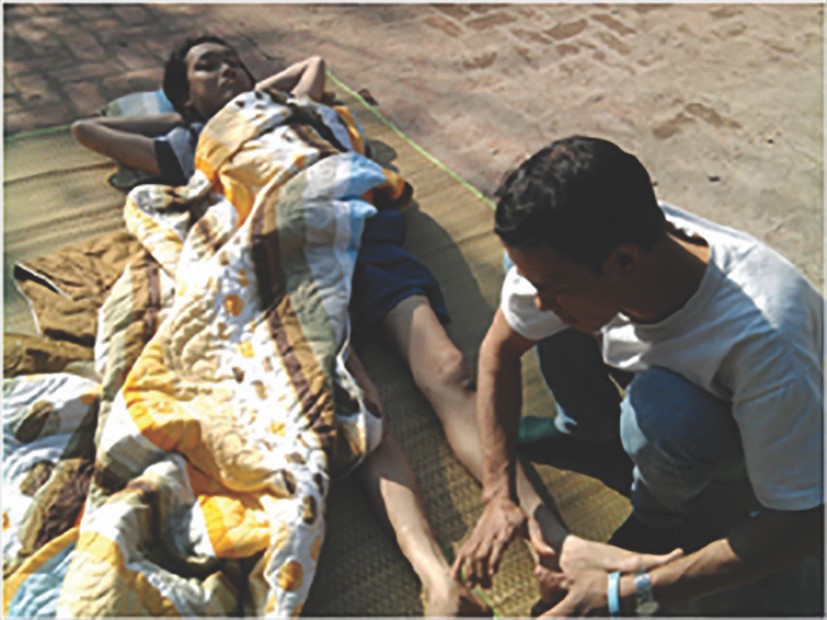 Hai was bedridden, unable to walk during the first few days of the first journey to Bac Giang, he was brought outside by his friends to get some sunlight.
The doctors tried to resuscitate me without success. They announced that I was dead and transferred my body to the morgue. When I woke up in the middle of the night, I found myself inside the hospital's morgue. Everyone was terrified when I walked out, thinking they had seen a ghost.
SEEKING DEATH AGAIN
When I returned home, I still had no desire to live. Once again I sought death. I locked myself in a private room with several hundred liters of liquor which I bought and put in a large container. For two straight months and 17 days, I did not communicate with anyone and ate nothing. I only drank alcohol. I was nothing but skin and bones. All my leg and arm muscles had shrunk, and I couldn't move. I soiled myself in the same place I slept. I figured I had only a few more days to live.
MY LIFE RAFT
At this moment my cousin, who worked at the Binh Long rehabilitation center led by Pastor Si Tan Ngo, took some time off to come and visit me. When he saw me, he broke into tears and said, "Hai, there is a way you can be saved."
"Which way is that?" I asked.
He answered, "Follow Jesus. He saved me from sin and drugs." Though I knew nothing about God, I told him, "Yes, I'll come with you." At that time, I was nearly paralyzed and could not travel to Binh Long in the South, so my cousin brought Mrs. Hoan, Trung Quoc Nam's mother, and Minh Ngoc Nguyen to help me pray and accept Christ. They then brought me to the Bac Giang Rehabilitation Center.
CHRIST ENTERED MY LIFE
I arrived in Bac Giang on December 17th, 2010. I could never forget the Christmas season of that year. The Lord Jesus entered my life that Christmas. I was physically weak and also suffered a mental collapse. Upon my arrival at the center, I was brought into the prayer room, and what awakened me was the sight of a blackboard with the lyric of the song "When Christ Entered My Life." The words of the song broke my heart, and I mumbled and wept while singing, and kept repeating the verse:
"In a dark world, where can one find joy?
Every path is filled with sadness, stirring up pains in one's heart.
God brings a smile, sufferings long gone.
There is joy everywhere, since Christ enters my life."
I could relate to the song's lyrics about a life filled with darkness, without happiness and hope. Jesus came to me because of his love and because He is the light, the joy, and the hope for my life.
THE RECOVERY
When I first arrived at the center, I weighed 92 pounds. I thought it would take at least six months before I could recover. The awesome and wonderful thing was that God fully restored me, both physically and mentally, in only one and a half months. What a miracle!
LIVING WITH GRATITUDE
I am eternally grateful for all that the Lord Jesus has done for me. Without God seeking me out and saving me, I would have been buried six feet under. Since following the Lord Jesus, there are still things in my life that are not pleasing to God. But thanks to His mercy, love, and grace, He still forgives and lifts me up. He pours His love upon me and uses me to love and care for the drug addicted brothers who come to the rehab center. I truly rejoice in seeing them overcome the effects of drug withdrawal and experience both healing and new life in the name of Jesus. I share the joy with their parents, spouses, and children. It is a joy that I had never experienced before. My desire is that God would use the remainder of my life to bring salvation to those who are being imprisoned and chained to addictions and sin. I want them to experience a new and blessed life from the Lord Jesus. All glory be to God. Amen!
(February 18, 2012)