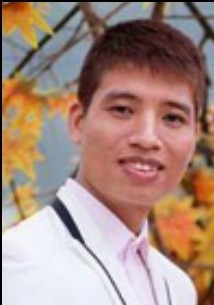 Just like the Psalmist wrote, God saved me so that today I might live to tell all the miracles He has done in my life.
FAMILY BACKGROUND AND THE PATH TO DRUG ADDICTION
My name is Hung Quang Pham. I was born in 1982 in Hanoi, Vietnam to a family of four children. My parents worked for a construction company, so our family was financially stable. Since I was the only son and the youngest child, I was often pampered by the entire family. My family was very loving and supportive, and did their best to provide for me in hope I would become successful. Compared to my neighborhood friends, I received the most love and affection which warmed my heart and made me proud of my parents.
But life was full of surprises. By the end of 1995, drugs started invading the Thanh Xuan area of Hanoi. I was almost fourteen years old then. Initially, my friends and I just wanted to experiment with drugs out of curiosity and fun. I did not realize the disastrous effects the drugs would have on one's body and on the well being of one's family. At first, I used drugs for fun with the intention of quitting, but I began to develop cravings. Before I realized, I was addicted. I hid my habitual drug use from my family for a long time. All the money my parents lovingly provided me for school tuition, allowances, and birthday presents was spent on drugs. But no matter how carefully a drug user might try to hide his addiction, it will be uncovered someday.
BEING UNCOVERED
I vividly remember my third eldest sister's wedding; it was the happiest day of her life. But it was also a bitter and unfortunate day for my parents when they discovered their son, whom they dearly loved, was a drug addict. Suddenly, everything fell apart! My parents stood there in a frozen state of shock, watching me get high on drugs and unable to do anything about it.
From that day on, my parents lived in misery and their health worsened every day. As for me, there was no need to hide my addiction anymore. Little by little, my drug use became a normal scene in the home. My parents could only clutch their hearts and accept it. Even though they loved me dearly, they were completely hopeless to help me. They tried to treat my addiction with medication and private rehab centers. All those efforts failed. My family's finances were drained, as their combined salaries were not enough to fight my drug addiction and provide rehabilitation. Domestic quarrels became frequent.
I remembered cold and drizzling nights when I would watch my father smoke one cigarette after another in sadness. My mother was like a zombie, wandering around the neighborhood food stands everyday to borrow money for her son to buy drugs. Day after day, my stomach churned and tears flowed from my eyes as I held the money my mother had given me. I had some humanity in me, but an addict's tears and conscience could not match the insistent pull of drugs. I continued to inflict pain and suffering on my parents and family as I tried to satisfy my cravings.
ARRESTED
In June of 2003, local police arrested me for drug use, and sent me to a drug rehab center for one year. My parents thought the poor living conditions and the lack of freedom in the rehab center would help set me free from drugs. It was just wishful thinking. The reality was that in less than a month after my release, I relapsed with heavier usage and worse behavior. Other government's rehab centers continued to take me in. I entered the Social Labor Educational Center #4, then #6, and subsequently #5. Each time I came back home I could only stay clean only for a short time. Multiple trips in and out of those rehab centers made me calloused, dissatisfied and fearless. I lived my whole youth life in sin and dependency on drugs. I was arrested multiple times in many different places throughout the city, and was sent from one drug rehab center to another. I cared for nothing, and traded everything I had for money just to buy drugs.
In moments of desperation, I thought my life only brought misfortune and suffering to my family. One time I bought a pack of drugs much more potent than the kind I used daily. I went to an empty lot near my house and injected the drugs with the intention of killing myself. Once the drug was injected into my vein, I became unconscious and woke up eight hours later. I believed "Ong Troi", "The Sky God", didn't let me die. After that, I continued sliding down the path of sin and evil with no way out. My life sank deeper and deeper. I was completely powerless to deal with my addiction, and was sure I would be dependent on drugs for the rest of my life.
In July 2011, I was arrested and sent to the Social Labor Educational Center #2 in Ba Vi, Hanoi. As I entered the center I was rather healthy, but after spending some time there I became weak and sick all the time. The price I paid for my 16 years of drug addiction was that I was in the last stage of an HIV infection. At that time the Recovery Bible Class was being held in the center. The class was provided by Hoi Thanh Tin Lanh (the Evangelical Church) and was taught by Brother Trung Quoc Nam. Even though I was not a student there, Mr. Trung Dinh Bui, a health care worker, knew about the class and introduced me to it. I was so weak that it took two people to walk me to the class each time.
When my health reached rock bottom, I believed and received the Lord Jesus Christ as my Savior. I thought death was getting closer to me by the hour. I was bedridden, unable to walk, receive treatment, or study. I was so weak that the center allowed me to be released five months earlier than required by the rehab policy.
VISITED, CARED FOR, AND HEALED
After I came back home, I lived in fear, because death seemed closer each day. My family took me into many hospitals for treatment, but it was hopeless. All of the doctors shook their heads and were unable to help me with my condition. However, the Lord Jesus, the Doctor of all ages, was able. His mercy came upon me. A friend in the Recovery Bible Class called and asked about my health. Through him, I learned about the Hanoi Born Again Church which was very close to my house. Then the brothers and sisters of that church visited me, cared for me, and gave me a Bible. I read and studied the Bible according to their instructions.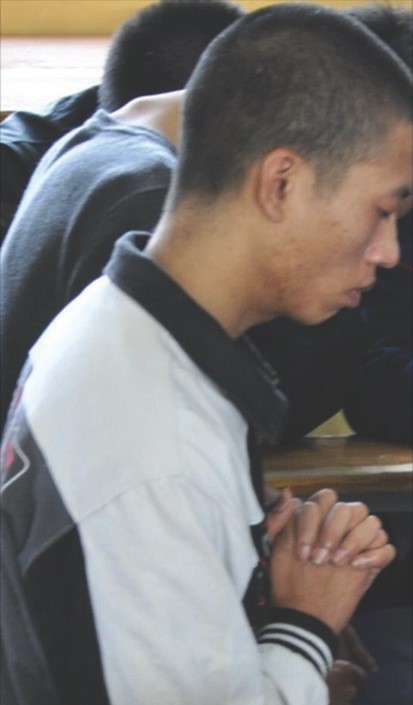 Hung opened his heart to accept Christ the first time he heard about Him.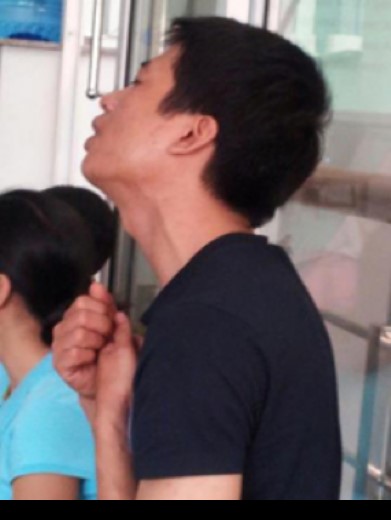 "Dear Lord, I'm reaching for You. Please hold my life in Your hand."
The Word of God in Psalm 118:17 touched me in a powerful way: "I will not die but live, and will proclaim what the Lord has done." I clung to this promise like a lifesaving device. Gradually, my health improved. I walked by myself and participated in church activities. At church, I met many people who also had a history with drugs and were delivered from their addiction by the Word of God. They shared their experiences, knowledge, and they prayed for me. Then, a miracle happened! God healed me.
THE TRANSFORMATION
I am now healthy. Thanks to God's transformation. Drugs and other social ills no longer have any influence over my life. I no longer smoke cigarettes; I no longer drink alcohol, and I no longer say even a foul word. Everyone in the family is very happy. Instead of loud bickering there is joy, laughter and happiness. I cannot describe the joy I now possess. Before becoming a believer in Jesus, I brought all the misery upon my family. But now, I am the chain link of love, the chord that connects the broken relationships in my family. During recent dinners together, my mother wept, not because of sorrow but because of her pride in my changed life.
THE GIFT FROM GOD
Our happiness did not stop there. "He who began a good work in you will carry it on to completion" (Philippians 1:6). Two years after I accepted Christ, He gave me a beautiful wife. She is seven years younger than I and healthy. She does not have HIV in her blood like me, but we both share the blood of Jesus in us.
Our wedding was held in Hanoi on March 29, 2014, with showers of joy and blessings from our families, friends, and church.
ABOUT MY WIFE

My wife, Tuyet Thi Trinh, was also saved by God after 8 years of drug addiction. Being a daughter of her dad's second wife, Tuyet grew up in an unhappy family. She started using drugs at the age of 14. At 15, she was arrested by police for selling drugs and was sentenced to four and a half years in prison. A year after her release, she went back to drug use. Then, at the age of 20, she was arrested again, and was sentenced to three years in a government's rehabilitation center.
He who began
a good work in you
will carry it on to completion.
Philippians 1:6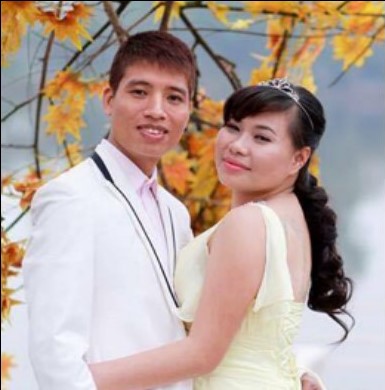 Phạm Quang Hưng và Trịnh Thị Tuyết

Hung Pham and Tuyet Trinh on their wedding day – March 29, 2014
During Christmas in 2011, the Light For A Path program came to the Social Labor Educational Center #2, where Tuyet was being held. It was the first time Tuyet heard about the Lord Jesus Christ through the testimonies of many people who were delivered from drug addiction. That night, Tuyet raised her hand to accept Jesus as her Lord and Savior and asked Him to help her overcome the addiction. Through worship and through studying God's Word in the Recovery Bible Class, Tuyet grew in faith and experienced God.
Two months before her release, Tuyet asked God to help her quit smoking pipe tobacco. Amazingly, during the final two days at the facility, Tuyet had no desire to smoke. Every time she held the pipe tobacco in her hand, she began to cough uncontrollably. Tuyet personally experienced the power of God in her own life. It was not her own effort to quit pipe tobacco, but it was God who won the battle. As the Word of God says in 1 Corinthians 15:57, "But thanks be to God! He gives us the victory through our Lord Jesus Christ."
On the day of her release from Center #2, Tuyet went straight to the Hanoi Born Again Church's Christian Rehab Center for Women. While there, God not only revived her spiritual life, He also restored her physical body. When she first arrived at the center, she was skinny and weighed only 45 kilograms (99 lbs.), but 11 months later at our wedding, she weighed 70 kilograms (154 lbs.)
But thanks be to God!
He gives us the victory through our Lord Jesus Christ.
1 Corinthians 15:57
A SPECIAL CALLING
After our wedding, to make ends meet, Tuyet was selling "banh gio" (a Vietnamese version of Mexican tamales, except it is made with rice flour and wrapped in banana leaves), and I was a motorbike taxi driver. During that time, we faithfully met with other brothers and sisters in the church to worship God and share our testimonies. Our lives passed peacefully until the day I saw an addict wandering in a park where I was working. He was high on drugs, half awake, and was wearing messy unfitted clothes. God touched my heart powerfully and said, "If you had not been saved, you would be just like that addict today. I didn't save you to be a motorbike taxi driver." I began to cry uncontrollably and could hardly stand up, mesmerized with the image of the addict in my mind. Immediately, I told my wife that we should quit our jobs and go back to church and dedicate our lives to serving the Lord.
In the beginning, we faced many challenges as we must receive support from the church for our daily needs. There was an indescribable struggle inside me. Where do we get money for our family to live on? During that time, there were many offers for me to earn money such as working in a pawn shop or being a debt collector, but I turned them all down. The picture of the addict wandering in the park and our commitment to serve God were still vivid in my mind. In the midst of all this, there was a voice speaking to my spirit:
"Take delight in the LORD, and He will give you your heart's desires. Commit everything you do to the LORD. Trust Him, and He will help you"
(Psalm 37:3-4. NLT).
Oh, thank you, Lord! I clung to God's promise and continued praying. "Dear God, I don't want to do any of those jobs, I only want to dedicate all my time to serve You. I am determined to live in the 'land' which is the church where you have placed me. I have decided 'to feed on Your faithfulness'."
God fulfilled His promise by granting us what seemed impossible.
THE DESIRES OF OUR HEART

Thank God. He opened the door for me to serve Him according to my heart's desire. He gave me a job so I could serve Him full time. Now my daily job is to serve in the Recovery Bible Class at the Rehab Center #2, where I was saved. In addition, I also visit and contact drug addicts to help them the way I was helped.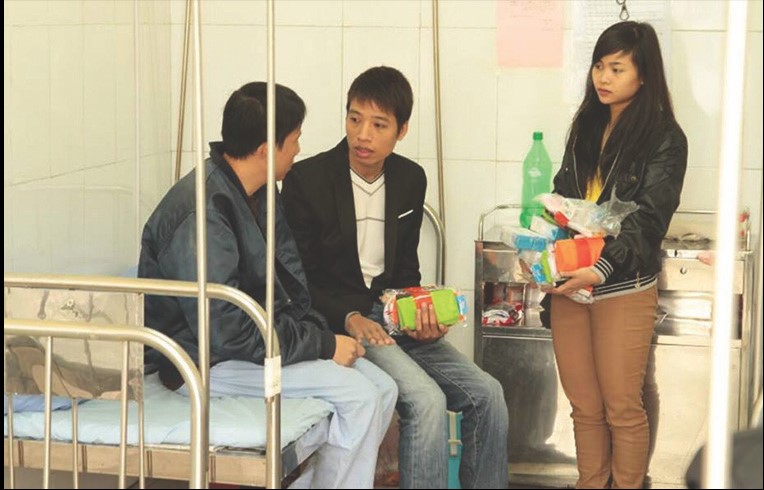 Hung shared about Jesus to a drug addict in government's rehab center.
God gave my wife a better job. Previously, selling 'banh gio' left her no time to serve God, but now with the new job, she can work and still have time to join me in the visitation ministry. Furthermore, she has been playing bass guitar for the Worship Team in our church.
GOD-GIVEN HEALTH
Recently, I ran into Mr. Trung Dinh Bui, the health care worker at Center #2, who told me about the Recovery Bible Class at the Center. He asked me if I was still taking ARV (the drug used to slow down the growth of the HIV virus). I told him that I stopped taking it four years ago. He was surprised and couldn't believe it. According to his medical knowledge, if a person stops taking ARV, his health would deteriorate and he would die soon after. I thought he just said that to flatter me. But once again, I met the medical doctor who had treated me at the Social Department. He said, "Thanks to the ARV you look much healthier now." I said to him: "Doctor, not really. I stopped taking ARV four years ago." Upon looking at my pinkish face, he was shocked and said: "According to medical research, stopping the use of ARV will give a person only few years to live. Why is it that you look so healthy?"
Truly, no one can deny the miracles God has done, is doing, and will do for those who trust in Him.
HEART TO HEART
Dear friends, if you are an HIV patient lying in bed at the last stage of your life, do not despair. The one who is sharing these words with you was in the same situation as you are in now. God didn't let me die because He wanted me to share about the power, the miracles, and all the wonderful blessings He did in my life as I completely put my trust in Him. I invite you to come to the Lord Jesus, so He can revive your spirit and restore your life today.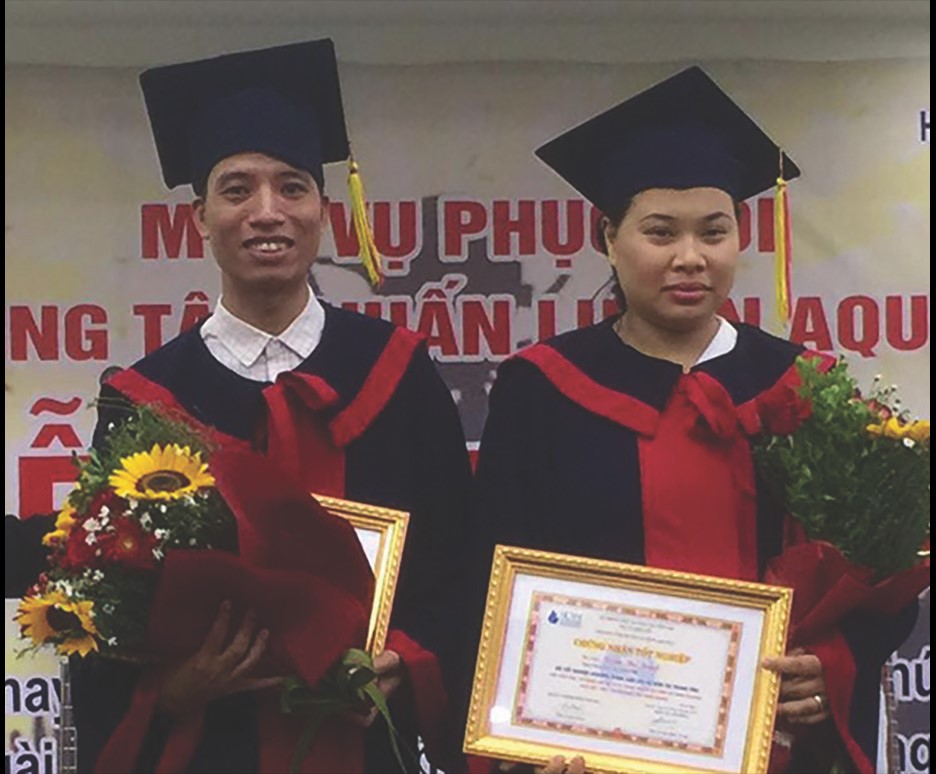 Completed Christian Recovery program. Hung Pham & Tuyet Trinh on their graduation day – September 3, 2017
I have never felt this happy before and my life has so much meaning now. I am so thankful to God. The desire of my family is that God will use the rest of our lives to bring His salvation to many people.
(May 2016)