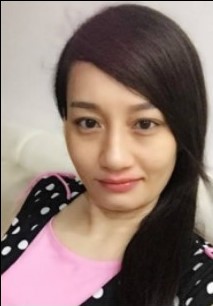 A smile blossomed on my husband's face as I announced we were going to have a baby boy. Yes, I was about to be a mom. As a woman with HIV, I never thought I could experience such joy after more than ten years of heroin addiction and numerous failures in life.
FAMILY BACKGROUND AND CHILDHOOD
My name is Huong Lan To. I was born in 1980 in Thai Binh. My parents had two daughters, of which I am the eldest. My childhood was filled with countless memories of my father hooking up with many different women. At the age of three, I watched my father bring another woman home. My mother took me with her on her trips to break up Daddy's affairs. We went on ten such trips.
Once during my sophomore year in high school, I came home to find a large crowd gathered in front of my house. I slipped through the crowd and saw my father threatening my mother with a knife. I yelled at my father, "If you don't love each other, why did you get married so my sister and I have to suffer like this?" After that day, I left home.
A year later I got married. Unfortunately, my husband was an obsessive and jealous man who physically abused me. As a result of the abuse, I suffered a miscarriage. On the day I was discharged from the hospital, my husband beat me again. I attempted suicide with sleeping pills and was brought back to the hospital. I decided to leave my husband and return home to my mother.
When I returned home and saw my family's situation, I was heartbroken. My father had left my mother to marry another woman. Our family was completely bankrupt. Since I didn't want to be a burden to my mother, with teary eyes I said to her and my sister: "For your sakes, I will get remarried, not to a Vietnamese, but to a foreigner."
I agreed to marry a Chinese man more than a dozen years older than I. I did not love him, but I was happy because of a daughter I had with him. Tragically, the child died five months later. I lost my sanity and became depressed. When I gave birth to a second child, my husband suspected that it was not his. During a moment of drunken fury, he punched me in the face and threatened me with a knife. I left China to return home to Vietnam. That dark point in my life led me to heroin. 
HEROIN AND A SEASON OF SIN
At first, I sought out heroin as an antidepressant to help me forget the painful events of my past, but I did not realize its destructiveness. Once one steps in with one foot, the other foot soon follows, and then the entire body sinks into the inescapable slough of sin. Before long, I became a slave to heroin. 
During my ten years of addiction, there was no drug I didn't try. Being a woman, I could not rob or steal like men, so I used my body to make money to sustain my addiction. As an attractive woman, I managed to get a job at a night club. I would spend the whole night with men older than my father, because they paid me well. After endless drugs and orgies, my beauty faded, and I was let go.
Then came the most shameful days of my life. As the craving for drugs increased, I wandered from one night club to the next, entertaining men for fifty or a hundred thousand Vietnamese Dong (around $3 to $5 US dollars) to satisfy my addiction. I could skip meals each day, but not the four fixes of heroin I needed. I would even offer my body to a fellow drug addict just to get a dose of heroin worth only tens of thousands of Vietnamese Dong (equivalent to a few US dollars). If I was lucky, the person would be kind. If not, he would torture me to make sure he got something from me that was worth the dose of heroin he gave me.
SEEKING AN ESCAPE FROM HEROIN
I tried many times to escape the grip of drugs. I wanted to quit, but when faced with relentless cravings, there was nothing I could do.
Once I asked my mother to purchase a chain around ten meters long and fifteen kilograms in weight to bind my feet. One end of the chain was fastened to the window, while the other end was wrapped around my ankle so I could not leave the house to look for drugs. The chain made it difficult for me to move about. Still after three days of wrestling alone with drug withdrawal I used an eye-brow shaving blade to loosen the chain and escape. 
I went to the Rehabilitation Center in Hoa Binh three times to get help quitting drugs, but, while there, I still sought out every possible means to get drugs.
Then my mother came up with the idea of building a concrete bunker inside the house with a lockable metal door. Above the door was a small opening large enough for food delivery. My mother would then put me in the bunker and give me medicine to help wean me from the drugs. However, this solution only worked for fifteen days. When I was let out for a shower, I held a knife against my aunt's neck and escaped. Then I stormed out into the streets in search of heroin. There were nights when I had no place to stay. I had to sleep in the alleys between houses, curling myself up against the cold of Hanoi's winter. What shame!
Let the wicked change
their ways and banish the very thought of doing wrong.
Let them turn to the Lord that he may
have mercy on them.
Yes, turn to our God,
for he will forgive generously.
Isaiah 55:7
After many unsuccessful attempts to quit, I thought of taking my own life to escape. I cut my wrists and my throat several times, just hoping to find death. I acted out of ignorance and insanity as I could find no other resolution. Praise the Lord! In the midst of it all, I came to know God.
FINDING GOD

My mother heard that many addicts in Hanoi had escaped from their drug habit through faith in Jesus, so she encouraged me to look into it. While attending a wedding in Hanoi, I ran into two friends and former addicts, Hao and Duc Anh. They testified how Jesus had delivered them from their addiction. I listened to them and agreed to give my life to the Lord. Then I sought help at the Christian Rehabilitation Center at Thai Binh.
When I arrived at the center, I was overwhelmed by the tremendous love that filled the place. During the first few days, I struggled from heroin withdrawal. The sisters stayed up all night to massage, pray, and care for me. They encouraged me to pray to God, but I didn't know how to pray. The only thing I could say was, "Lord, save me!" Yet, after such a simple prayer, I felt something unusual, and then I fell fast asleep. In the world of an addict, going for weeks without sleep, even up to a month, is normal. The ability to sleep for few hours without sleeping pills is very unusual indeed. I experienced this miracle in the form of a deep and restful sleep. After the Thai Binh Center, I entered the Saigon Center to heal and to learn the Word of God.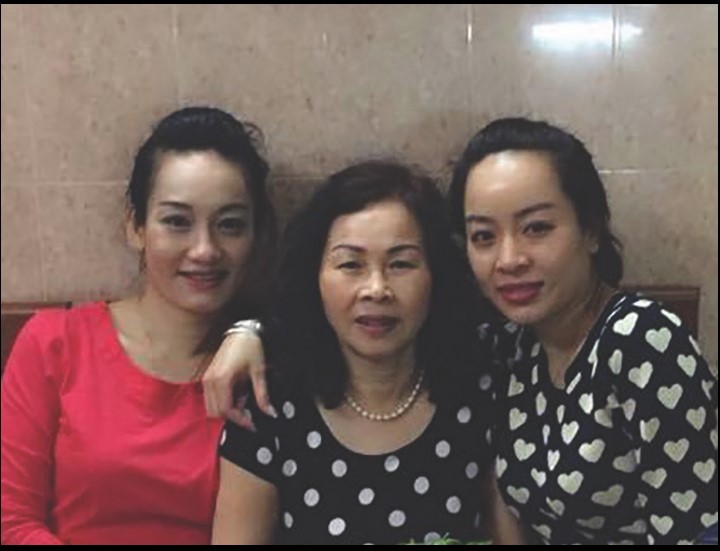 Lan To (left), her mother (middle) and younger sister (right).
I didn't anticipate that even while I was in the House of The Lord, Satan would constantly try to pull me back to the old path. Even though I experienced the joy of salvation, I lacked spiritual maturity, and I relapsed.
RETURNING TO THE LORD'S HOUSE
During my relapse, I knew deep down in my heart that there was no escape from addiction except through Jesus Christ. At the end of 2013, I returned to a local church to repent and asked brother Trung Quoc Nam for permission to return to the Christian Rehabilitation Center in Hanoi.
Praise the Lord for His great mercy upon my life. Regardless of my sinful past and numerous failures, the Father's loving arms always opened wide to receive me when I returned to Him.
EXPERIENCING TRANSFORMATION
The Lord has changed me so much since the day I came to Him. In my past as an addict, lies and deceit were common practices for me. Now, I can no longer lie. The moment I have thoughts of lying, the Holy Spirit convicts me.
In the past, in addition to my heroin addiction, I was also heavily addicted to cigarettes and alcohol. I used to smoke two to three packages a day, and drank heavily. Once I stopped using heroin, I also stopped cigarette smoking and alcohol consumption.
For many years, I held resentment toward my father and could not forgive him for the sufferings he brought upon my mother and our family. But now, I love him and forgive him. When I heard he was sick, I called him. On his birthday, I sent him a gift. I used to be very selfish, thinking only of myself and never caring for anyone else. But now, I know how to love, care for, and have concern for others, even for those who have wounded me, like my own father.
My mother suffered the most because of me. During the years of my addiction, I did not care how much pain she endured, especially when I ran away from home to look for heroin. During those times, I only thought of myself, and how I could get the next fix. My mother's sadness and tears and heartache were the furthest thing from my mind. But, now that I have been healed, I care about her feelings. Now I am close to her and speak to her with loving words.
HAPPINESS FROM THE LORD
God led me to meet Khuong Kinh Doan who was also an addict saved by the Lord after fourteen years of addiction. Khuong and I got married with blessings from our families and from the church. We're expecting our first child and could not believe it when I found out I was pregnant. It had been fifteen years since the birth and heartwrenching death of my daughter. During ten years of drug addiction, a life of debauchery, and then contracting HIV, I had never once hoped that I could become a mother again.
But God is loving and merciful! He gave me a husband who fears the Lord and truly loves me, and more than that, He gave me the joy of becoming a mother once again. Amazingly, when I went to take a pregnancy test, the doctor informed us that my husband had not contracted HIV and the baby was very healthy. O Lord, You are so good! My gratitude to You is without end!
As the baby grew, I prayed to the Lord: "Lord, please help me be a good mother and a kind wife who can guide my son in the fear of the Lord to become a worshipper of You. And may his life bring glory to Your name."
I gave birth to our firstborn son in December 2016. We named him Phu Thien Doan (God's Gift) in gratitude to the Lord for the precious gift that He has given our family. Phu is a life-long gift to me and a living, breathing testament of God's grace and goodness.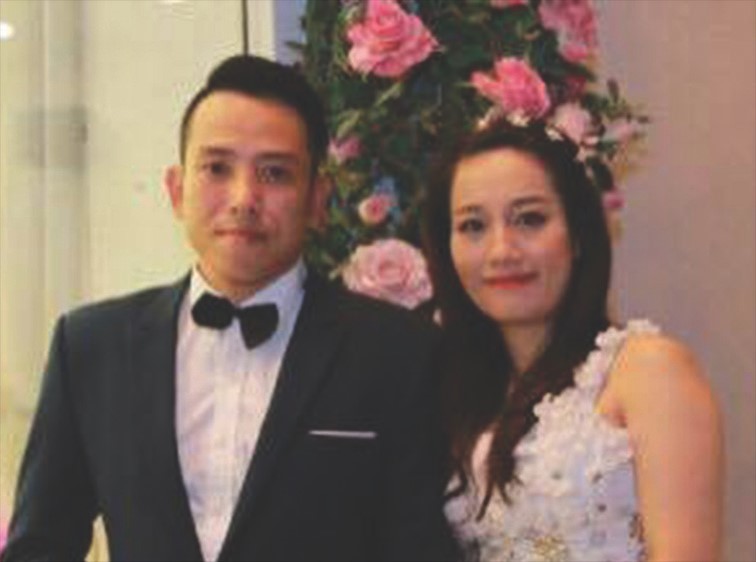 Lan To and Khuong Doan on their wedding day – July 23, 2016
God saved you by his grace when you believed.
And you can't take credit for this;
it is a gift from God.
Salvation is not a reward for the good things we have done,
so none of us can boast about it.
Ephesians 2:8-9
WORDS FROM THE HEART

Dear friend, I am blessed today because of the forgiveness and mercy of the Lord upon my life. Personally, I am not worthy of receiving these blessings, but the Lord loves me and has given me all these things from the abundance of His love and grace.
The church celebrated with Lan To and Khuong Doan on their wedding day.
If you have experienced many ups and downs, and have made many mistakes, remember that the love of God is always awaiting you. He has forgiven and saved me; He will also forgive and save you, if you put your faith in Him. I hope you will meet the Lord Jesus. You will experience love, transformation, and a new life full of blessings and happiness in Him.
(September 2016)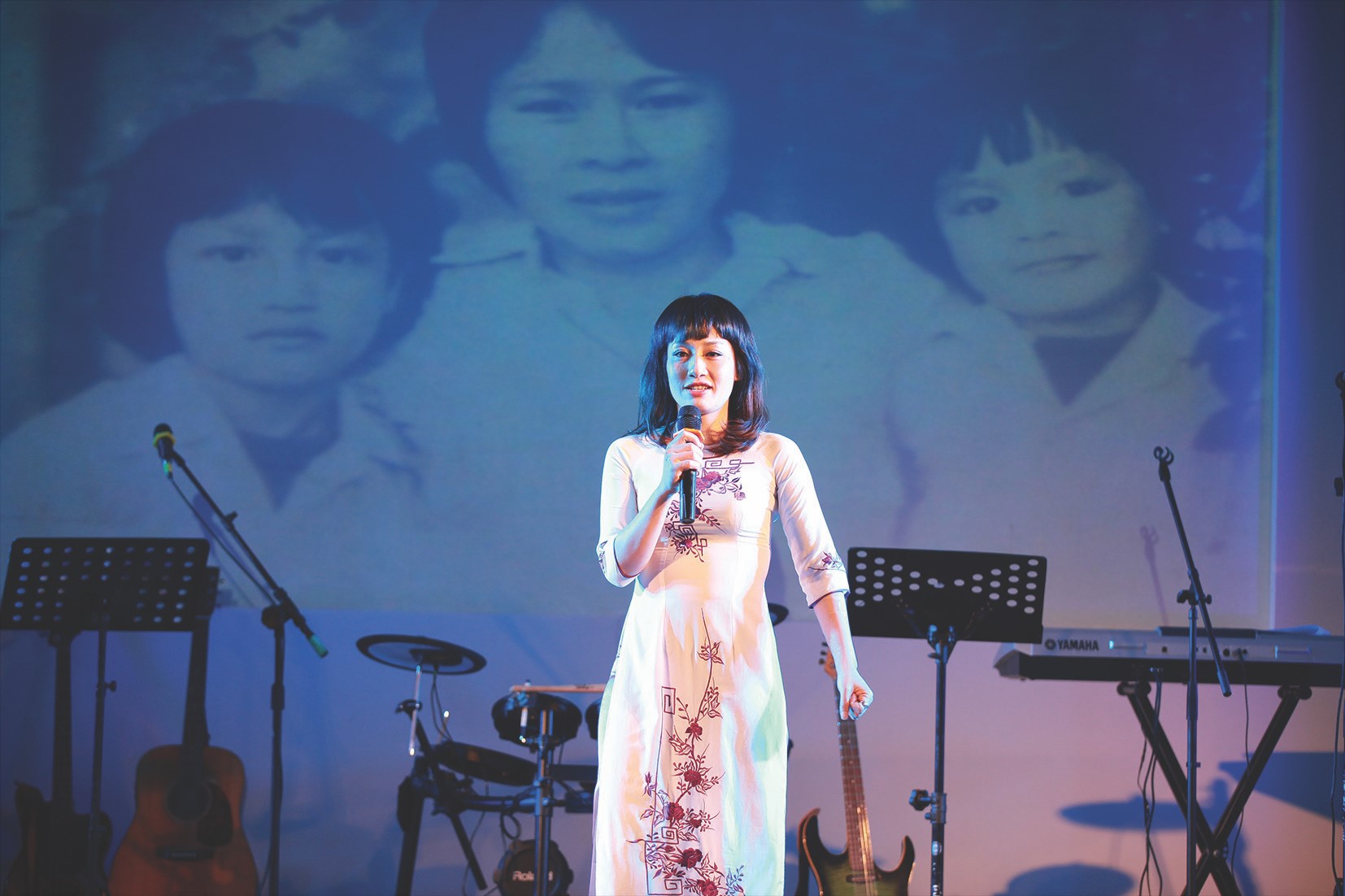 Lan To gave a testimony at the Government Rehab Center No.2 in Hanoi, Christmas 2014
A GIFT FROM HEAVEN
Baby Phu Thien Doan was born on November 27, 2016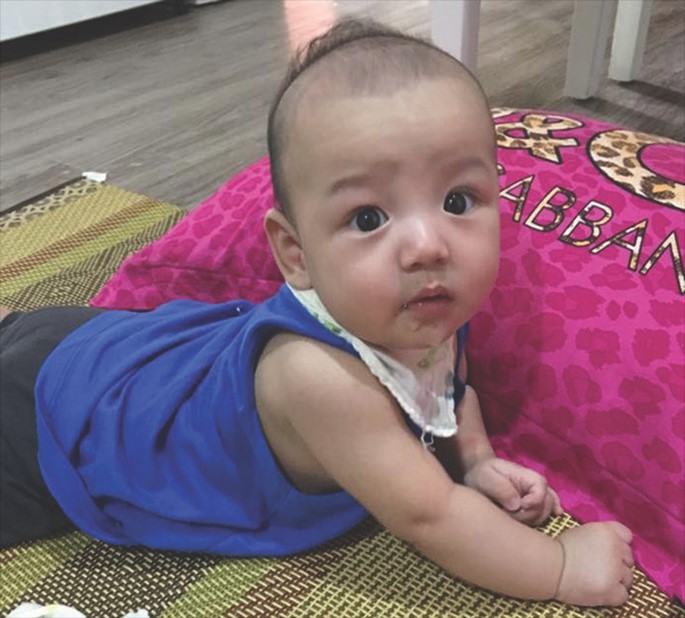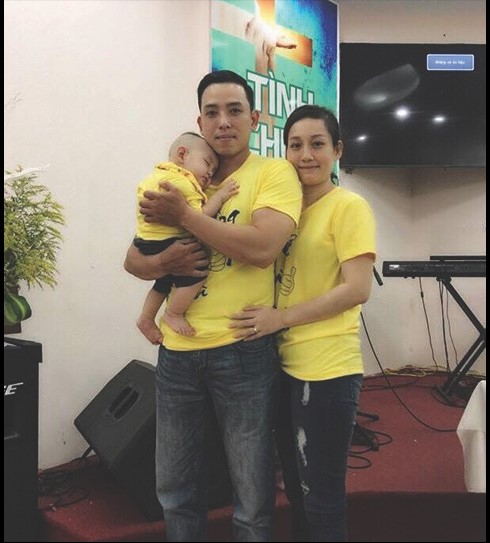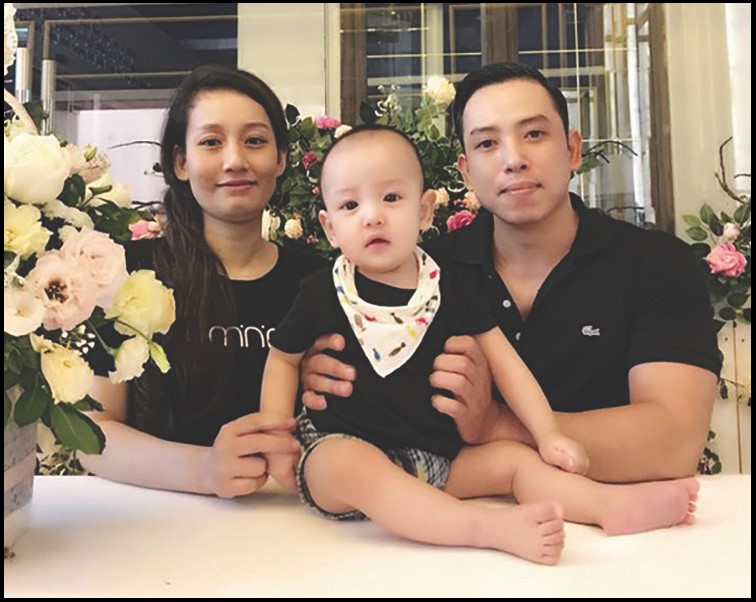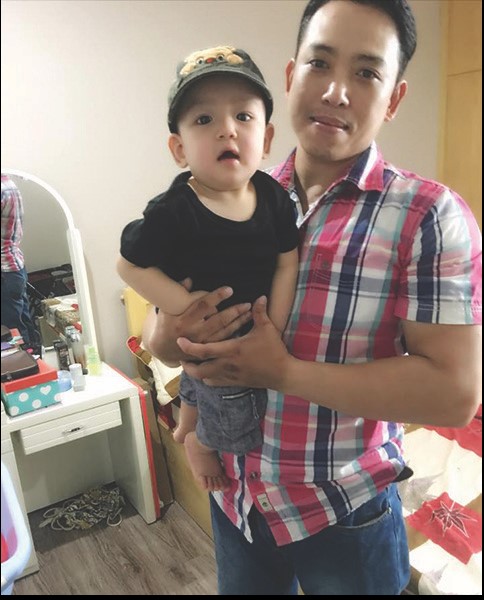 "Every good and perfect gift is from above, 
coming down from the Father of the heavenly lights, 
who does not change like shifting shadows."
James 1:17 (NIV)